Personal Injury Attorneys – Sugarland, TX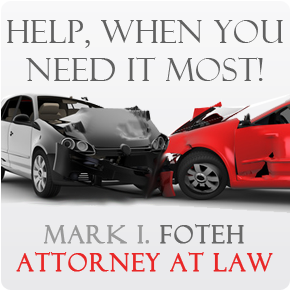 If you have suffered accident related injuries in Sugarland, Texas, you are going to need the expertise and experience that only a handful of personal injury attorneys can offer. The personal injury attorneys at the law office of Mark I. Foteh have created a winning formula that has produced results for over 95% of our clients. We know what your case needs to be successful and what you need to recover from your injuries and get your life back on track. No matter how big or small your case is, our team of experienced personal injury attorneys and knowledgeable staff members will give you a first-class, personal experience, something you deserve following your traumatic incident.
If you've been hurt and it wasn't your fault, contact our personal injury law firm. We handle all types of personal injury claims including: 
Personal Injuries

Truck Accidents

Wrongful Death

Medical Malpractice

Motorcycle Accidents

Slip and Fall Accidents

and much more.
If you've been injured in an accident or treated unfairly, we want to put our knowledge of the law to work for you. Give us a call at  713-988-0505 to speak to a personal injury attorney, today!